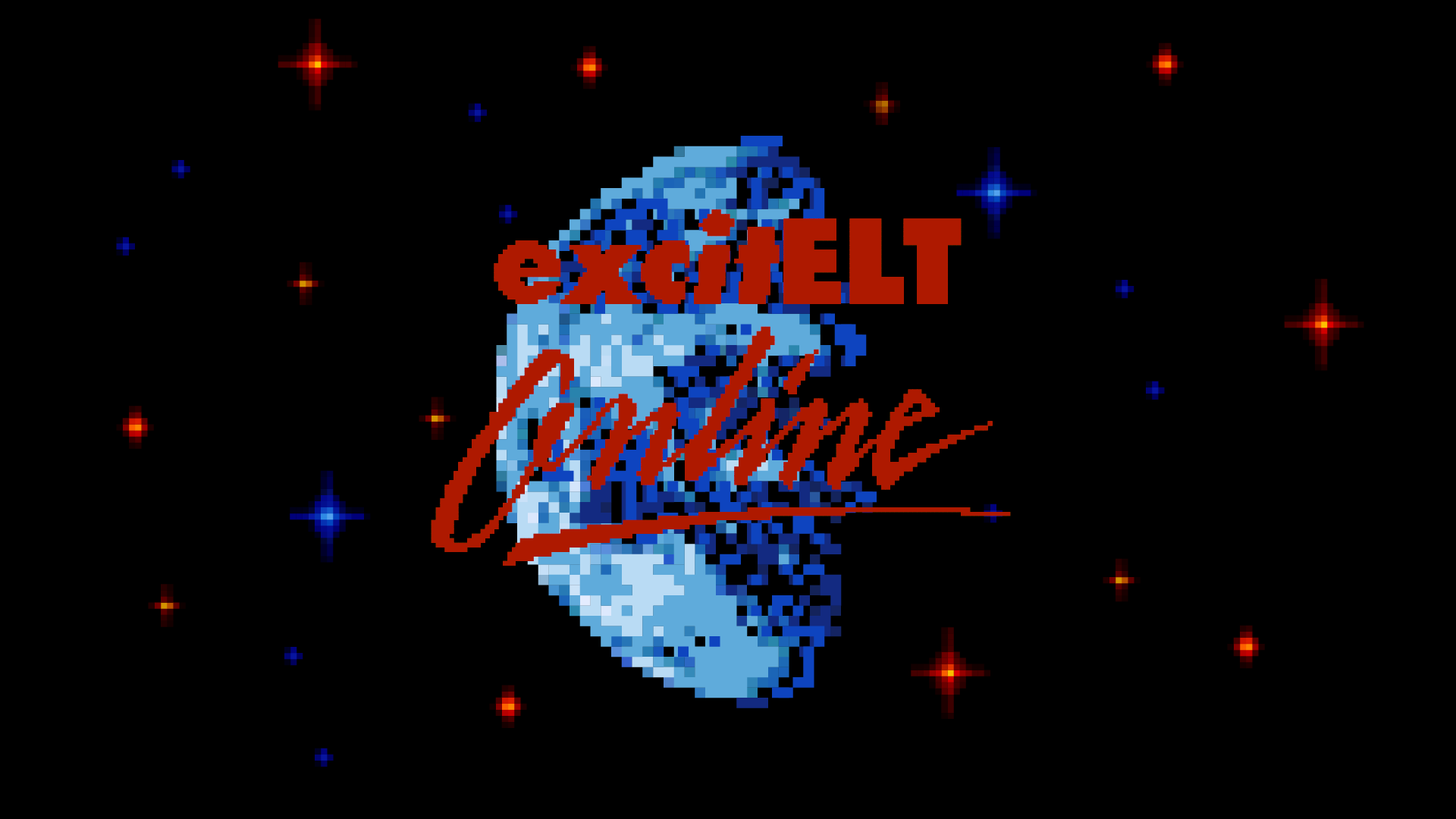 Key details
This conference consists of two sessions, the first, teaching IN English in global contexts, focus on English as a medium of instruction (EMI). The second, teaching English in global contexts, is focused on global Englishes (GE). It is hoped that this conference offer information and and a place to discuss these important issues. 
Date:  Saturday 5th of December (EMI thread): 16:00-17:45 UCT. Sunday 6th of December 2020(GE thread): 10am-11:45 UCT. 
Theme: Teaching English in global contexts and teaching IN English in global contexts
MCs: Heath Rose and Nicola Galloway
Speakers: Pramod Sah, Kari Sahan, Ali Fuad Selvi and Anuchaya Montakantiwong
Cost: Pay what you can with all proceeds going to Room to Read
excitELT has been certified by Equal Voices in ELT for it's parity in its speaker lineup. 
Conference theme
This conference deals with two important issues for English language teachers: the growth of English as a medium of instruction and the rise of a global Englishes understanding of the English language. 
Teaching English in global contexts
In recent years, our understanding of English has been evolving rapidly. While in the past English language education, and indeed research into English language education, has centred around the language norms of so called native speakers, there is an increasing realisation that the definition of 'native speaker' is based more around postcolonialism than linguistics and that these norms no longer matter in a world where English is used more between second language  speakers than first language speakers. This block of sessions will explore the English as a global language and what this means for teachers. 
Teaching IN English in global contexts
The use of English as a medium of instruction (i.e. the use of English to teach other subjects in countries where English is not usually spoken) has surged in recent years with Chapple (2015) describing it as the "most significant trend in educational internationalisation". However, despite the confidence and speed with which EMI been adopted across the globe, there is little consensus in the literature on its efficacy or its impacts on society. We hope that this block of sessions makes teachers more aware of the issues around EMI and helps them help students who are preparing for an EMI context. 
Pramod K. Sah
Pramod is a Ph.D. Candidate and Killam Scholar in the Department of Language and Literacy Education at the University of British Columbia, Canada. He has worked as an English language teacher in Nepal, China, the UK, and Canada. As a researcher, he looks at the policies, politics, and pedagogies of English both as a medium of instruction and as a second/foreign language. His work is driven by the core values of social justice indexes, for example, social class, race, and ethnicity, often drawing on Pieer Bourdieu's critical social theories. His Ph.D. research, a critical ethnography, investigates the broader intersection of language ecology, social class, ethnicity, and EMI in Nepal's multilingual schools.
Kari Sahan
Kari Sahan holds a Ph.D. in Applied Linguistics from the University of Oxford, Department of Education. Her research focuses on English medium instruction (EMI), language education policy, and classroom interaction. She is a researcher in the EMI Oxford Research Group and tutored on the MSc in Applied Linguistics for Language Teaching at the University of Oxford. She is also the Assistant Project Lead and Webinar Coordinator for the online global network, 'Teaching English & Teaching in English in Global Contexts.'
Ali Fuad Selvi
Ali Fuad Selvi is an Assistant Professor of TESOL and Applied Linguistics and the Chair of the Teaching English as a Foreign Language Program at Middle East Technical University, Northern Cyprus Campus. His research interests include Global Englishes, (in)equity, professionalism, marginalization and discrimination in TESOL; and second language teacher education.
Anuchaya Montakantiwong
Anuchaya Montakantiwong works at the Faculty of Liberal Arts, Mahidol University, Thailand. She recently submitted her DPhil in Education at the University of Oxford on the topic of teachers' cognition and the incorporation of Global Englishes into pedagogical practices. She is co-author of the 2020 book, "Global TESOL for the 21st Century: Teaching English in a Changing World". Her research interests explore the role of teachers as agents of change in TESOL curricula.
Peter Brereton
Peter is currently an English for Liberal Arts instructor at International Christian University, Tokyo. He has worked in Japan since 2012 and previously worked in Germany, France, Latvia, Spain, Australia, Ireland, and the UK. He holds a Delta and an MA in TESOL, and has recently embarked upon a PhD under Steve Mann at the University of Warwick. Peter is passionate about teacher creativity, teacher training and development, and Manchester United. In his free time, Peter enjoys exploring lesser-known parts of Tokyo and writing bios in the third person.
Shoko Kita
Shoko currently teaches at Rikkyo University in Tokyo, Japan. After completing her MA in TESOL, she has taught an EAP course in the United States and managed an English discussion course in Tokyo. Her research interests include teacher training and development, teacher creativity, and critical thinking skills. Shoko enjoys playing volleyball and playing the piano.
Timothy Hampson
Tim is a teacher living in Beijing who has previously lived in Shanghai, Nanjing and Seoul. He is the host of ELT WTF, a casual interview based show about English language teaching, the author of Conversation Cookbook, and is currently undertaking online postgraduate study at the University of Oxford. Tim is passionate about finding ways to empower teachers, bridge the teacher-researcher gap and make the perfect cup of coffee.
Heath Rose
Heath Rose is an associate professor in the Department of Education at the University of Oxford, where he is course director for an online masters aimed at language teachers. He spent the better part of 15 years teaching English in Japan from 1997 to 2012. He is a researcher of Global Englishes, and is particularly interested the teaching of English as an international language. He is co-author (with Nicola Galloway) of Global Englishes for Language Teaching (2019).  
Nicola Galloway
Nicola Galloway is a senior lecturer and Programme Director of the MSc/MEd TESOL at The University of Glasgow. She is the coordinator of an online global network (Teaching English and Teaching IN English in global contexts). She has conducted two British Council projects on EMI and is Editor of a British Council literature review on EMI. Her EMI research features in Higher Education, ELT Journal and the EAP Journal and two forthcoming books. She is author of three books on Global Englishes and has an upcoming book with Heath Rose and Ali Faud Selvi.
Organising groups
This conference is brought to you by excitELT in collaboration with the EMI (Enligsh as a medium of instruction. Oxford Research Group and the Teaching English and Teaching in English in Global Contexts network.
excitELT
excitELT is an English language teaching conference that strives to be more friendly, inclusive and participant-driven. We are currently planning our next conference and will have more details on this page in the near future.
EMI Oxford Research Group
The EMI Oxford Research Group is a research group within the Department of Education at The University of Oxford, which explores the educational and linguistic implications of the spread of English as a medium instruction (EMI) within communities where English is not the primary language of communication. Currently, the world is seeing a boom in EMI as an educational model, but the implications this growing trend is severely under-researched. Thus, the research group aims to fill this void in its exploration of the effects of EMI on language learning, content learning, teaching delivery, quality of education, equality of access, and other multi-faceted aspects of EMI.
Teaching English and Teaching IN English in Global Contexts
Teaching English and Teaching in English in Global Contexts is an international network on the topics of English Medium Instruction (EMI) and Global Englishes, exploring the linguistic and educational implications of the global spread of the English language. One part of the network focuses on the pedagogical implications of Global Englishes research and aims to help instigate the much needed paradigm shift away from native English speaking norms to ensure the 21st century English classroom is reflective of how the language functions today as a global lingua franca. The Other part of the network focuses on English Medium Instruction (EMI), which has become one of the most significant trends in Higher education in non-Anglophone countries.
Register
To register for the conference, please use the button below. The conference is run on a 'pay what you can' basis with all proceeds being donated to Room to Read, a charity supporting girls' education in developing countries. After registering you will recieve a confirmation email and we will email you with a link to the zoom room prior to the conference. 
*N.b. we will close the registration for each session one hour before that session starts. If you're registering late, please contact info@excitelt.com instead of filling out this form.*